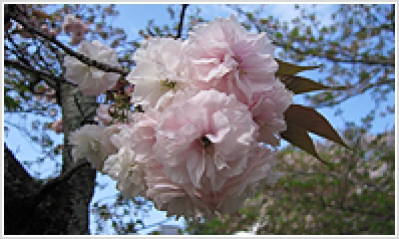 基本情報
Place
Omura Park
Best time to see
Early to mid April
Description
This is one of the oldest Sato Sakura types from Muromachi Period, also known as "Fugendo."
The name "Fugenzou" comes from the look of the flower (two green leaves in the center make a big curl outward) which looks like "elephant's trunk." (Fugen Bosatsu Buddha saint also rode on an elephant.)
The big double cherry blossoms are beautiful, whose color changes from pink to white.
The flowers weeping from the long stems are very gorgeous. The tree itself also grows very fast to a big tree of 8-13 meters.