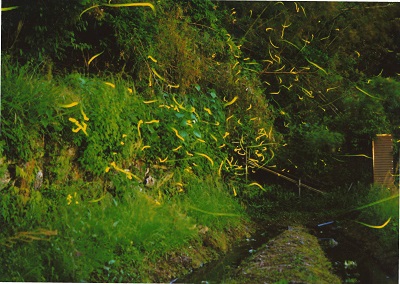 基本情報
Address
1577 Tajimo-machi, Omura City
Information
In the countryside a while ago, it was not rare to see lighting bugs flying into the room. However, nowadays, you can seldom see them. The main reason is thought to be the decreasing number of Kawanina freshwater snails which are the main food for the bugs. Therefore, people started to work on purify the river water to get snails back in Omura.

In Kayaze District, many lightning bugs can be seen from early May to late June, thanks to the hard work on "Home for Lightning Bugs Project." Especially in the lightning bugs breeding area in Tajimo-machi, you can see the fantastic view of lightning bugs flying in abandon.

There are a couple of spots to see these lightning bugs. Among them are the 2 lightning-bug-breeding areas behind Kayaze Junior High School by National Route 444. Many people visit these places to see the illusory show of lightning bugs.
Best time to see
Early May to early June, 1 hour after sunset
Note
It usually takes a year for lightning bugs to grow. They spend most of their lives in water, and has usually only 2 weeks as adults.

There is one group, called Kayaze Lightning Bug Preservation Group (Tanaka Manabu President), which tries hard to increase the number of lightning bugs. . There are 28 members (as of 2012).

Every May and June, each member catches 10 male and female bugs for coupling and incubation. 3 weeks later, they put the bugs back to waterweed. Usually a female bug lays 500 ~ 1000 eggs, which means, the group is contributing hatching quite a lot of lightning bugs. They have been working on this project with Kayaze Elementary School since 2006.